Only $500 for 24 Hours of Fun Racing
I wrote about the 24 Hours of LeMons (yea, I spelled that right) in another blog about the "Strict Racing Rules". I expected some easy going people out to have a great time. I found'm!
It took the "Eyesore Racing" shown above 6 months of weekends to put their 94 Mazda Miata together. The car, built for $500 or less by the rules, was made from 2 Miatas practically welded together in the middle. One car had front end damage and no motor and the other had been carefully wrapped around a tree with the front end intact. The engine, including the small rusty-wheeled turbo from a Mexico only Dodge pickup, was resurrected from 4 engines. Where would 24 Hours of LeMons racing be without Craigslist!
The team consists of neighbors and friends making up 4 sets of couples out of Long Beach, CA. In the Phoenix race, their 9th race,  6 of the 8 team members drive including "March Hare" Dave, "Tweedle Dee" Jay, "Tweedle Dum" Dan, "Alice" Sara and "White Rabbit" Sarah and my man, the "Mad Hatter" Kyle who helped with the details for this story. "Queen of Hearts" Caro and "Cheshire Cat" Kurt round out the team.
The combination's working because team Eyesore won the Phoenix race and became the first every 2 time winner of 24 Hours of LeMons. They won at the Reno-Fernley race, according to this Jalopnik story,  where they were all dressed like Elvis.
Don't think they were the only team out having fun though… Let me introduce Team "Off Consistently"
I asked Tyler Irwin, what's with that name?  Duh… nobody beats off consistently!
This 1985 300ZX cruised in from San Diego, CA and is another Craigslist purchase.  Tyler told me it came up on for $300, not running, and they picked it up for $200. They Finished 3rd.
I also found the "B Team". Swanee and I couldn't figure out what the black strip running down the roof was until we found their pits. It's a Mohawk for the B (not A) team BMW. They finished 10th.
Dig team, "Lemon Martini". Their 1990 Honda CRX. Money's split between 17 and 20, but they finished 7th in Phoenix.
To show the real spirit of racing, fun that is, I'll include this last picture.
The "Sac Indicator" tells it all.
Wrapping things up, here's a video that shows most of the cars competing. Don't hate the big 4 door Olds 98 you see cruise by. They took 5th!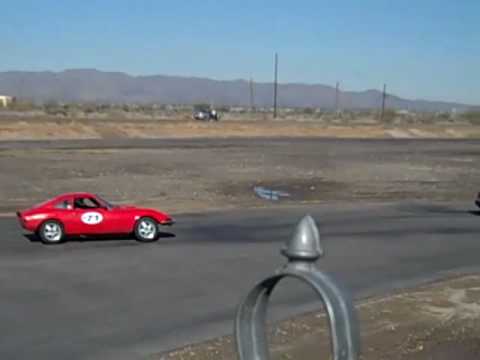 MyRideisMe.com will be trying it's hardest to enter this race next year.  Who's with me?!
Tags
Related Posts
Share This