1967 Datsun Roadster Lost and Found for 37,000 Miles
Scott Fisher's "Roadster Roadtrip" Visits Nissan's PG
If you haven't heard of Scott Fisher and his 37,000+ mile roadtrip in a 1967 Datsun Roadster, then folks… you're missing out. This is not only a great car story, but a great, "human kind" story as well. I had the pleasure of meeting Scott face to face at the Nissan Proving Grounds where I work. (those of you thinking I work on MyRideisMe.com full time, thanks, you're too kind!)
It started as, "Clockwise around the country following the seasons" then evolved into a roadtrip where Scott woke up not even knowing where he'd go that day some mornings. Scott said, "The best experiences were the ones I didn't plan…" I love it!
Scott made his way to Nissan thanks to Dale Herseth. Dale's Nissan Arizona's resident Datsun freak. He sports the great looking "Datsoon" roadster below as well as a 620 pickup and a B210 as well. Dale reached out to Scott asking if he'd like to visit our proving grounds, meet everyone and have a look at our test facility. Scott realized quickly this is a rare chance to see "behind the wall" so he spent some time and answered a bunch of questions for us. It wasn't all work…
That's me, pikesan, with Scott learning about the car and starting to learn just a bit about Scott. I couldn't help wondering… with 37,000 miles on the road, alone except for his Grandpa's image (the guy who taught him how to work on cars) riding along (shown on next picture) and iPod ear buds…
What were you thinking about? What did you learn?
After selling a successful business, Scott had alot to not think about! It sounded to me like he'd given everything he had to his business for the last several years, then when he sold it, he needed, simply enough, to unwind. To, "decompress" as he put it and to, "re-prioritize my life." I envy Scott for the time he took and the thoughts and sometimes "lack of planning" that led him to the successful roadtrip. Don't we all wish we could take that time and get lost?
When I asked what he'd learned, I was delighted to hear this:
"People are basically good."
After all the people he's met, are you surprised to hear that? I'm not! Scott also realized having a classic car, especially an approachable, attainable car like a Datsun Roadster, helped him meet the right people. Everywhere he stopped, he chatted with former Datsun owners, former roadster owners, or just people who dig old cars. Those are some of the best people on the planet and why I love doing MyRideisMe.com. Scott knew this would have never happened if he toured the USA in a Porsche or other high dollar touring car. (Pass the Tabasco, not the Grey Poupon!)
Scott stuck with what he knew. His first car was a Datsun Roadster he put together with help from Grandpa, so he knew his roadtrip had to be in a Datsun too. That's how a 4 month trip filled about 8 months when it was all said and done.
(
See the small black and white photo of Scott's Grandpa along for the ride)
After all those miles, a few deer crossed the road right in front of Scott somewhere in Utah. Luckily the damage was minimal after some evasive maneuvers! I guess by now he knows what the old roadster's capable of, right?
Like I said… it wasn't all business when Scott visited the Nissan Proving Grounds! As part of his tour, he took some hot laps in a GT-R with Brett Lengel or head driving instructor. You can't fake a smile like that!
This last picture shows my man Ray Solomon who took most of these pictures. It also shows the angle of our track in the high speed lane.
If you're curious about this story, make sure you check out the Roadster Roadtrip website. If you're a real car nut… start from the beginning where he tells you what he did to the roadster to get ready. The photography is FANTASTIC! Here's just one example (with permission from Scott)
From Scott's site, along with his detailed recap of the trip, there are links to additional media coverage. Check out the ones from Petrolicious.com, especially the wrap-up video they did and their detailed interview. Then finally, down below, Ray's video from the Nissan video made the big time with Nissan's PR folks. The video he made is shown below.
Thanks for a great visit Scott!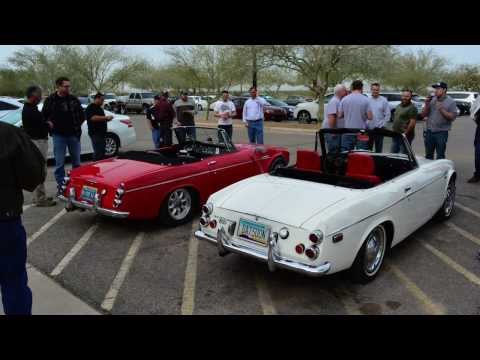 Tags
Related Posts
Share This