2009 SEMA Trend-Mega Torque Diesel Hot Rods
Cruising what I call the main hall of the SEMA show, it's fantastic to see the great rides that make SEMA, the parts show, become SEMA the car show. Featuring the best built cars and timeless classics, it's a mix of some of the best rides in the country. I stayed close to "Hot Rod Alley" to find the booths of manufacturers I used and wanted to check out. Seeing the Mustangs and Camaros that are no doubt classic SEMA favorites was cool and will be featured here, but I've always like something different.
Big power and stupid amounts of torque aren't different to the folks at Duramax performance discussion forum TheDieselPlace.com, but what about in a 1970 Chevelle? This is one of two cars I spotted at SEMA running a diesel and starting a new trend in hot rodding?
Instead of choosing from from several small block Chevy's you've already seen or even throwing cubic inches or the tech of LSX in, Mike Racke of Fullerton, CA stayed with the General, but in the form of a 403 cu. inch LLY Duramax.  This beast runs a mostly stock block with aftermarket turbos and heads to make an unbelievable 950 hp and 1,700 lb-ft of torque.  Just so you know diesel hot rodders as dedicated to tire shredding performance as their gasoline counterparts, there's more performance to come when they add the nitrous system!
Finding a diesel under the hood makes this Chevelle worth stopping for in a SEMA hall littered with great rides, but the engine's only part of a total package that makes you glad you noticed the "SS Duramax Diesel" badges discreetly revealing why this ultra clean street rod is in the PPE (Pacific Performance Engineering) booth at SEMA. The overall construction is top notch, as you'd expect from the incredible detail and plumbing under the hood. (Click on the pic to see it full size)
While not parked inside the show, I found another example of classic meets diesel power in this 1965 four door Caddy parked near unsuspecting tuner cars and lowered pickups.  The flat black paint might make you think "rat rod" but this was a clean ride.  Add contrasting red metallic paint on the roof with wide white walls and original style Cadillac hubcaps and this smoothed out more-door is already a great cruiser. With the power and, gulp, fuel economy of a Cummins diesel, now you're talking about a truly unusual, but sweet long distance highway mofo.
I found a video on Youtube that shows this car in better light. Owned by Jason Livingston  and dubbed the "Poor Boy Cadillac" the 12 valve Cummins motor runs a slew of ATS parts including the intake (unfortunately requiring a big hole in the hood) and giant turbo.  The video shows the gnarly black smoke pouring out of the 4 inch or so exhaust exiting out of the passenger side fender. Check it out: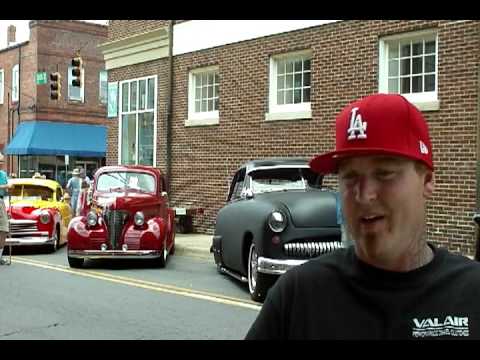 So is diesel plus hot rod the new thing? Or is it simply the continuation of hot rodders putting something that don't belong into their rides simply to be different and go fast? Either way, I dig it.
Special thanks to Optima Batteries for the trip to SEMA.
Tags
Related Posts
Share This