2009 SEMA Show Stopper- Ring Brothers' 64 Fairlane
The best 1964 Ford Fairlane?
1964 Fairlanes will always be one of my favorites. At one time, Pops owned a Blue one, Mom's was white and mine was my high school driver called, "The Highway Bitch". Red, white and blue, we loved our 64's. Pops still has his and is done up Pro-street with a small block Ford and big-fatties in the back.  The C6 went south so it's been sitting for a while, but here's a pic so you know what a "regular" 1964 Fairlane looks like.
Here's another "regular" 1964 Fairlane at Bonneville Speed Week
The not-so-casual viewer will notice this is a 2 door post model just like the factory race cars Ford built known as the "Thunderbolt".  I've seen Pops work his butt off on this car and we've had alot of fun times in it.
Not to be outdone by the factory Thunderbolts, allow me to introduce, "Afterburner"

If you've seen any of the Ring Brothers' builds, you know they set the standard and I'm not the only one who thinks so. Goodguys named Ring Brother's cars "Street Machine of the Year" for and unprecedented 2 years in a row. First with their "Reactor" 1967 Mustang and then with the 1969 Camaro known as "Razor". Don't kid yourself that these cars aren't drivers either.  Proof's in the video embedded at the end of this story.
Their website, Ring Brother Homepage, says, "We sustain above industry standards in quality throughout all of our work." Add humble to their list of qualifications because it's tough to find a car that's more custom and more detailed from top to bottom than a Ring Brothers car.
I'd like to answer the questions  you're probably asking yourself as well: "Why this car?" Then I'd like to ask the owners, "What about this car is, My Ride is Me?" That'll have to wait. Until then, check out these detail photos and the video interview from our friends at Street Legal TV. (Click on any picture to see it full size)
Those are real carbon bumpers, front and back, made custom for this car. It's amazing how old and new are blended together as an original looking grille is used up front and the original taillights are retained.
Details. The one thing that describes a Ring Brothers car more than anything is the details. Look closely at Pop's Fairlane and you'll see what the original C-pillar trim looks like. This one off "Afterburner" piece is no doubt custom, just like the hood pin pieces.
Continuing the carbon theme, the only side trim remaining is the Ring Brothers' take on an original Fairlane piece. It sets off the body shape well and gives it that high-tech look from any angle.  Then the hood is beautiful and functional. The video explains how the radiator heat is sent out through the hood vents instead of into the engine compartment. Look carefully and you'll see the other common trait with the original Thunderbolt: 427 cubic inch power, but this time, it's not Henry, its Jack (Roush).
Then, as promised, here's the Ring Brothers "Reactor" 1967 Mustang Video. Yea, their cars get driven and hard!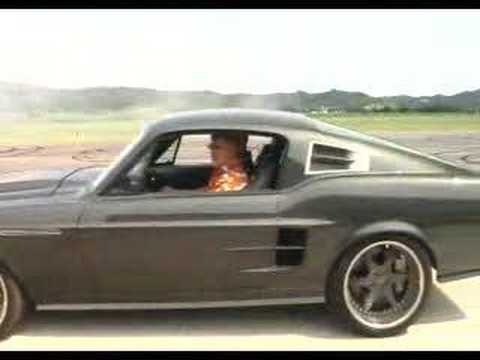 So what is this car? A hot rod? A street rod or street machine? I guess. Is it pro-touring or some other kind of race-car-like creation. Yea, it's that too.
Special thanks to Optima Batteries for the trip to SEMA.
Let us know what you think with a comment below.
We're kicking off SEMA 2010 with SEMA Car Show Schedule
Tags
Related Posts
Share This