2011 Motorama Harrisburg – The Farm Goes Hot Rod Again
Tunerwars, Hot Rods and Classic Cars at Motorama
If it has wheels and a motor you could probably have found it at the 2011 Motorama Events last weekend at the PA Farm Expo Complex in Harrisburg, PA.
The 2011 Motorama isn't a single show but many shows to entertain you. Three car shows (Tunerwars, Hot Rods and Classics, and the Speed Show) were going on at the same time.
Over in the 7000 seat Autocross area there was four wheel and two wheel action all weekend. There was also a large gathering of go-karters and quarter midget racers competing for top prizes on different tracks. If you like remote control racing then you should have been here. Multiple HUGE tracks allowed for RC Nitro, 1/8th scale Electrics, RC Electrics, RC Rock Crawling, and even remote control Drifting!
Maybe you like to watch things beat the snot out of each other? Then you should have been over in the Robot Conflict area. There were also less violent activities including the Miss Motorama Pageant, Bands, and carnival games. The Hostetter Family and crew does a great job producing this show. This is seriously one of my favorite events to attend each year.
There were a lot of Camaros entered into the Hot Rods and Classics show but my favorite had to be Butner Motorsports' 1970 Chevy Camaro. Everything on this puppy sparkled and with a 540 topped with an 871 BDS blower this beast can scoot. A TH-400 tranny followed by a 9" Ford rear packing 4.56 gears gets the power to the ground.
For the classic part of the show, how about Mike Rudy's 1970 Oldsmobile Cutlass? I wouldn't mind being seen cruising in this blue beauty with the top down. How about you?
Operation Herbie had Herbie The Love Bug on hand at 2011 Motorama. "Operation Herbie®, founded in 2003, is designed to use the increasing popularity of Herbie the Love Bug to focus public attention and funding on the health care needs of children and non-profits supporting children with an illness." What a cool way to use a car for good!
From the "What the …" file comes Ken Miller's 2004 BMW M3 der strabe over in Tunerwars. Since I am not very knowledgeable about European cars, this custom BMW had me circling it a few times. It was done so well that I wasn't sure whether or not it was factory built.
While I was disappointed that the Air Force guys didn't bring their Supercars for display like they had advertised, they did have this nice 1995 Ford Probe in their booth to look at.
Speaking of stuff to look at, what tuner show would be complete without the lovely young ladies? There were plenty of girls posing with the equally pretty vehicles throughout the show floors.
There was plenty of action happening over in the Arenacross area. Here Jerry Myers gets some air time as he competes in the Pit Bike 10 Inch 16+ division.
Have you ever seen a Remote Controlled Rock Crawling competition before? The skill these guys have to be able to maneuver their vehicles across wires is amazing!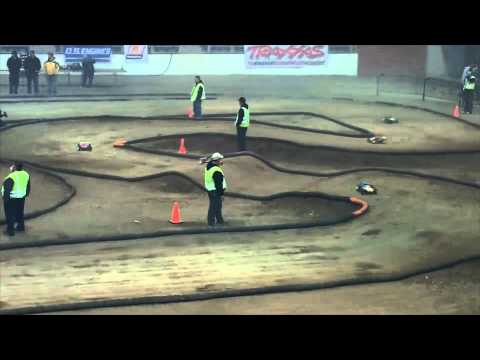 Remote Controlled events were spread out all over the complex.
The best thing about Motorama Events is that it is all under one roof. You can move between areas and be out of the elements. Also, this is a great family event. There are plenty of things for everyone to do. Okay, now I am sounding like a sales guy. Have you been to Motorama before? If you have, what do you think about the show? Let us know; we want to hear from you.
Be sure to check out more 2011 Motorama photos over in the 2011 Motorama pictures gallery.
And mark your calendar for next year's Motorama: February 18-19, 2012
Tags
Related Posts
Share This