2012 Sacramento Autorama – Hefield Domination
Custom Cars and Hot Rods in Sacramento
Story Contributed by MyRideisMe.com member: Nick Koljian "Hellcity316"
Oh it's that time of the year again..
The Sacramento Autorama kicks off the beginning of another soon to be amazing car show year here in Northern California. The Sacramento Autorama is now in its 62nd year with Sacramento known as "The Kustom Capital of the World" and boasts being home to one of longest running indoor car shows in the world. The Autorama is recognized as the premiere custom car show on the West Coast featuring over 450 of the finest custom cars, hot rods, classics, motorcycles, and specialty vehicles from around the county. As always,Autorama weekend is held at Cal Expo and take up the entire Expo Center.
Let me give a little tid-bit of show facts for this years show. The 2012 show theme is Futuristic. Cars and Vendors are encouraged to decorate with this theme. Cool.
Over 500 show vehicles will compete for awards inside all of the Cal Expo buildings. The Clubhouse will be in The Pavilion and up to another 500 vehicles will join the event Saturday and newly added Sunday for the Autorama Drive-In parked in the Building A lot. Watch and bid on artwork created by the best pinstripers in the nation at the Autorama Panel Jam. All proceeds from the auction will be donated to help the children of U.C. Davis Children's Hospital. You get a sick piece of pinstriping from some of the best pinstripers and your money goes to a great cause. Come on, how could you pass on that?
Live Music all three days inside the Clubhouse, The Suede Pavilion as well as our Autorama DJ spinning the best records for your enjoyment. Very nice. Lets not forget Mitzi's Trophy Girl Pin Up contest on Saturday where not only 1st place gets cash in pocket, but 2nd and 3rd as well.The cash prize looks like this. 1st place $500 2nd place $300 and 3rd is $200.
The 2011 Custom d'Elegance and King of Kustoms winners will Be announced.
With all this going on in a window of 10:00am to 9:00pm. Plus 4 Pin-Up shoots. I think I'm going to have my work cut out for me. That's why I planned ahead. Did you think I was going to do all of this by myself? I'm bringing in one of my fellow lens junkies and Villianz car club member John Lemoine to help me cover this huge event. Only the best for MyRideisMe and it's readers, right? So without further ado I give you the 2012 Sacramento Autorama.
John and I are not the best at directions and together a paper sack would probably really have us in a world of hurt. So mid way up highway 50 we realize that we have missed that one important turn that takes us to 80 East which we should have been on. Looking at the clock and the big hand is on 6 and the little is on 10 we know we have to put the pedal to the metal. We get on track with the not so smart phone and arrive at Cal Expo just in time. The parking lot is already filling up and the spectators are already lining up for a great day of custom ride sights.
Once inside I see a spectacular 49′ Merc just sitting all by itself. What a great place for my first pin-up shoot. We walk down to talk with the owner of this choice ride. The owner turns out to be Terry Cox of College Cyclery. The Terry Cox that brought the Bike-o-Rama idea toAutorama 5 years ago and now has it's own building for custom bikes and only custom bikes. Terry told me after the shoot that it was his "barn car." If that's the case, I would love to see what is this barn of his!
I ran into John who had bailed through The Pavilion area and said, "This is one not to be missed, You should see the customs buddy!" I still had time before shooting with South Bay's own The Devils Pin Ups. I made my way over and roamed around checking out some of the most amazing rides I have seen in along time. James Hetfield's 37′ Zephyr to Bryan Loder's 40′ Zephyr. You turn around and the next thing you see is Justin Carrillo's 60′ Cadillac DeVille. You take a couple of steps and you are looking at Goran Lassell's 48′ Mercury Coupe. Just when you thought you have seen it all. You take a trip down stairs and some of the surrounding rooms and see names like Anthony DeFreitas with his 51′ Merc custom, Doug Beattie's Futurama Forty, Mario Colalillo's 59's Wildcad and John D'Agostino's 56 Packard. The list was endless. When you entered the Suede Pavilion you would have run into customs from Sacramento Customs, The Road Lords, Skoty Chops, Gambino Customs and Masterson's Kustoms.
Of course there was outside with a ton of clubs and their cars,trucks,gassers and one paticular rod called Wild Thang, a 1931 Chevy Coupe that breathed 20 foot flames. Check out this video taken at the Autorama. Imagine what it looked like after the sun went down…
In case you need more, here's the video: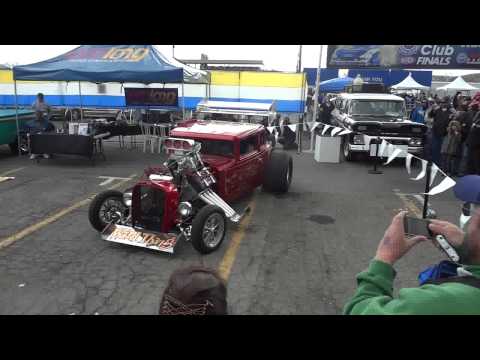 I finally met up with the gals of the Devils Pin Ups, Sarah, Jme and Brittany for a few pics. We snapped a few off in the tiki area and with a few rides. As the sun was getting ready to drop and the night time was upon us. I still had to swing by the Panel Jam to rap with some amazing pinstripers and I couldn't miss the Pin Up contest that Mitzi & Co had put together.
There was 12 gals all wanting to take home the 500 buck purse and a killer panel done by Mr. Wim. Also a sweet jacket. Each gal came up and answered a simple question and showed off their personality a bit and went back to their respectable place in line. This years participants for the Autorama was pretty stacked with Bella Rockafella, Trisha Turner, Paulina Koonce, Katrina Reid, Olivia Freda and Jenna Gimarelli to name a few. After all the questions had been asked then it was time to see who got the loudest applause and then it was up to the judges. Trisha and Jenna where neck in neck till the votes were tallied up and by a slight margin Jenna Gimarelli came out on top and 500 bones richer. But Trisha didn't make out to bad herself with a cool 300 bones for a 2nd place finish.
After the Pin-Up contest was over I took the opportunity to grab a few shots with the wacky Villainz Car Club and then John and I fled around trying to get some last minute shots of the show. All the food shacks where closing down and the announcement went out," 20 minutes till show is over." So no 2 foot long corn dog for me tonight and no Gene Winfield sig on his new DVD.
As far as the winners of the show, James Hetfield pretty much cleaned house by taking 4 of the 8 Custom d'Elegance Awards. For a list of all and I mean all the winners of the 2012 Sacramento Autorama go to http://www.rodshows.com/media/press-releases/2012/2012-Sacramento-Autorama-Awards-Program.pdf.
We said our good-byes to whoever was left at the show and made our way to the parking lot. I tell you what, it was another great showing for the 62nd time in Autorama history. If they keep this up, this show will out live me. I would like to give a huge thank you to my fellow lens junkie for all his help covering this show John "Location" Lemoine. I could not have done it without you brother.
Till next time,see you at the show. – N/K
Tags
Related Posts
Share This