5 Tips for Building a $5000 Pro-Touring Mustang
1966 Mustang Fastback – Pro-Touring Budget

"I bought a 1966 Mustang Fastback out of a junk yard for $400. Thought I would challenge myself to build as exotic a g-machine as possible for $5000. "
It sounds impossible, anti-Pro-Touring even. MyRideisMe.com asked Ron Schwarz, owner/builder of this Grabber Blue beauty, to share his 5 Tips with our readers. He tells it like no one else can. This guy is hilarious! There are some killer classic quotes here. Stick to these 5 Tips below and you too can build your own budget dream ride.
1. Choose The Right Car
Your car has to be affordable, but still turn you on. If it doesn't keep your interest it will be just another project that doesn't get finished. Choose a car you can get cheap parts for, period.
2. Do your homework
The mods on this Mustang were done with factory (Ford and GM) parts from performance models/sports cars. The front suspension is all C5 Corvette parts; great handling, big brakes, relatively cheap, and fairly easy to come by.
3. Choose The Right Drivetrain.
Find a drivetrain that meets your horsepower goals and doesn't need an expensive rebuild or power adders. Instead of the original 4.6L Mustang mill purchased, Ron ended up with an LS1 that had been in a fire for $300. In fairly stock form the LS1 can easily reach Ron's goal of 400HP. The purists hate it, but it fit the budget. Best bang for the buck!
4. Use All The Deal Finding "Tools" Available
The "tools" are Ebay, Craigslist, Racing Junk , trade and barter, your buddies "take-off parts", etc. Network with car buddies, see who is upgrading. "Take-offs" can be picked up cheap. The barter system is alive and well. The tires on Ron's 'Stang were traded for a wine cooler.
5. DIY=Do It Yourself!
This is the hardest of the 5, but its also a MUST to meet your budget! The more you cut, weld, grind and paint the better you get and the more money you save! Books are good for learning fab' skills, but we learn more from being around true craftsman. Don't be scared to screw up, you can fix it.
Let's see how Ron used the 5 budget building tips on his own Pro-Touring Mustang Fastback:
"I watch Ebay, Craigslist, and Racingjunk like a hawk. I wouldn't have been able to do this with out some lucky bidding. What did we do before Ebay?"
We'll let the Mustang out of the Corral and tell you that Ron didn't quite make the $5000 budget he set, but who cares! He did do it for under $9000 though, which is amazing. Here's the parts and cost rundown to see how he pulled off the impossible using his Top 5 Budget Tips.
$2750 Car and Rolling Chassis
1966 Mustang Fastback for $400 (floors were non-existent, but I've always loved the Fastback), Dana 60 Bread Truck rear with 410's and powerlock for $75, Housing ends and axles $375, c5 suspension and truck arms Ebay $600, frame $400, wheels 18×12 and 18×10 Ebay $900, traded a wine cooler for some tires (for 335's, must have been quite a wine cooler. LOL).
Originally, Ron purchased a Ford 4.6L 2cam and 5 speed with wiring assembly from Racingjunk for $750 but it wasn't going to meet the goals (hp and budget). That setup was sold (for a little profit too). Ron asked the Pro-Touring forum readers "Should I keep it all Ford? Its already got a c5 Corvette suspension in it. What to do???"
Engine/Transmission $500 + trades
Ron has previous experience running LS1's and had enough computers/wiring laying around to get one running. "I scored a low-mileage LS1 for $300 (with a couple hundred to replace the pieces that are missing).
"I'm painting the engine Ford blue and remote mounting the coils, maybe the Ford guys won't notice. LOL."
Should cheese off all the die hard Ford guys, maybe I'll paint the LS1 Ford blue and nobody will know the difference. I scored a Muncie M21 trans, shifter and bellhousing from my buddy, traded it for an old set of Mustang II spindles and rack I had laying around. Picked up a set of LS6 heads, cam and intake for a song. Got an LS1 throttle body off ebay for 95 cents. So here I am, I have a complete chassis,motor,trans,rear,body sitting on a chassis, all accesories and brakes. I have about $1800.00 left."
Suspension
Rear springs and weight jacks from race proven parts, the springs were $6.50 ea. and the weight jacks were $18.00, right in my budget, you just can't beat eBay. The rear ended up at 63″ face to face, about the same width as a full size pickup rear. Shocks came off a 2008 Silverado,with 100 miles on it. I watch eBay, Craigslist, and Racingjunk like a hawk, I wouldn't have been able to do this with out some lucky bidding. What did we do before Ebay?

Body
"Most of the rust is gone, but then again, so is most of the car. Also finally got a serial # and title and some parts off a car that got scrapped. I built the chassis on the car and the track width is about a foot wider then the Mustang LOL. I'm making the Mustang fit the track rather than the track fit the Mustang. The hood is a 2.5″ cowl hood from CJ Mustang parts. In keeping with the budget its a scratch and dent piece, two of the 4 corners have cracks in them (perfect for this car).
Got a chance to scale my car. It weighed 2750 pounds with no fuel or driver. Just under 3100 pounds with me and a full tank of fuel. The good part was that the car had just about perfect 50/50 weight distribution."

Ron's Classic Quotes Continued:
"Besides its the new parts that have been killing me, all the used junk has performed flawlessly(at least so far). Its alot nicer a car then I originally planned."
"Hoping to squeeze a high 11 sec pass out of the thing, and be a good handling car. I still would rather have an 11sec. Chevy powered 'Stang than a 13 sec. Ford powered one."
"Its coming out just as I pictured it though. I usually hate when people stray away from the factory look, but I think I like it better then the factory lines. I should be happy, do to all the tweeking I had to do. I figure this will be one of those cars people will either really like,or REALLY REALLY hate.Ron"
"This is turning out way nicer a car then I originally planned, and it didn't cost anything but time."
"In keeping with the budget theme,I'm shooting it with a Harbor Freight $15 paint gun, yes you heard right $15, was going to break out my good gun that I bought to spray my Camaro, but no it is budget crap to the very end."

See Ron's mustang on the track here: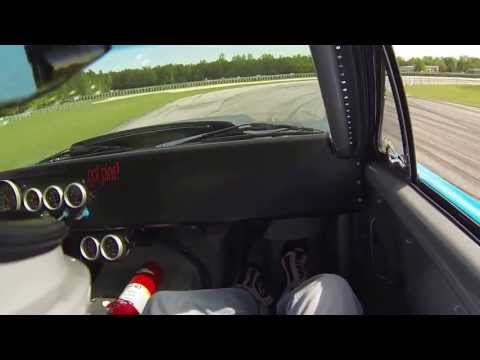 Or some autocross action here: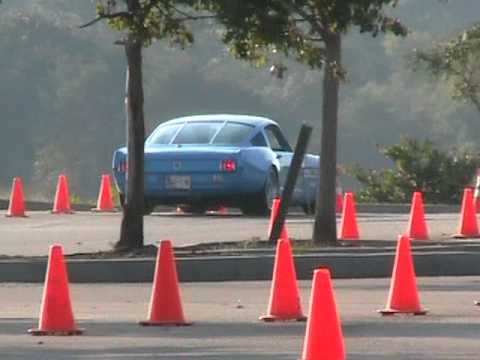 See Ron work his magic on his personal website and pro-touring build thread. Lots more pictures and build details if you want the nitty gritty version!
With the economy doing its downward spiral, building our rides on a budget is as important as it's always been! Give us your comments below on what you thought about these 5 Tips and send this story to all your friends so you can start working those trade and barter swaps with your car buddies!
Hechtspeed

Tags
Related Posts
Share This