Custom Vans Make a Statement at SEMA Show 2013
More Custom Vans at 2013 SEMA Show
I already mentioned the "Chrome Gypsy" custom For Econoline van, now it's time for a Dodge and Chevy custom van.
Has the SEMA Show changed their criteria? Are they letting just about anything in the show now? Or… are these some RAD, well done vans that make a clear statement: Custom Vans are back!
First up, a van named, "Van del Oro" and we'd have to agree… Van of GOLD! In the morning sun (unfortunately parked in the shadow of a huge column) this van was glowing. A quick peak inside said the beauty was more than skin deep.
With more gold, and I think a little more metal flake on the interior highlighted by a Mooneyes steering wheel, chrome dash and Moon pedal, there's a clear attention to detail. Upholstery was by Howdy Ledbetter Upholstery and looked clean, custom and comfortable.
Under the engine cover? How about a 380 HP 360 Dodge. Toy's by Tommy and owner ??? (help here) are keeping it in the Dodge family. Thank you for not dropping in a small block Chevy!
Speaking of NOT dropping in a small block Chevy… Check out this custom Chevy Corvair Van.
It's wild how these Chevy Vans look chopped a little, even though I'm pretty sure it's not. The gasser style fuel tank up front and red tinted windows make you wonder… What's happening for power??
Then BAM!
This custom van is aptly named, "Torq Storm" for the 540 cubic inch big block Chevy running twin, jack shaft driven billet Torqstrom Superchargers (torqstorm.com). The show card says 1000 HP thanks to FAST fuel injection and a host of other tricks. The builder is listed as Accelerated Racing Products.
You gotta watch this thing make some noise in this video: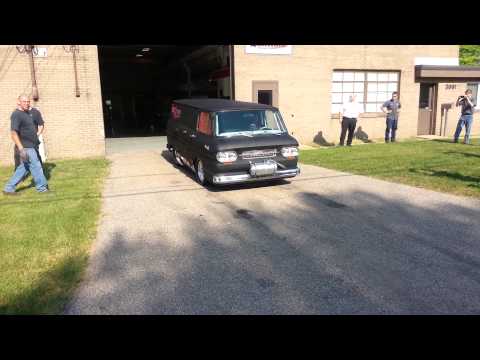 So there you have it! Custom Vans making a come back, especially at SEMA. If you include the custom delivery-style vans, then there were a bunch more vans! Keep'm coming and we'll keep showing them!
Before you go, here's just one picture for one of my for Favorite at SEMA: Custom Econoline Van
Catch all the action from SEMA – "Live from SEMA" – Click the banner below or follow this link to see all the coverage from SEMA and Nitto Tires ace reporting team. (Site will be up for a while… check it out!)

Tags
Related Posts
Share This