Ford Falcon Gasser – Nailed by Chuckles Garage
Straight Axle Ford Falcon Gasser
Meet the Chuckles Garage "Strange Bird" 1962 Ford Falcon Futura A/GS drag car.  This car started out as a $200 Craigslist beater and through some odd chain of events, became the "Strange Bird". MyRideisMe.com stumbled on Scotty Birdsall, owner and chief ornithologist at Chuckles Garage, a full service fab shop in Santa Rosa, CA. In Scotty's words, here's more info on this wicked Ford Falcon and what hits you first, the blown 401 Buick Nailhead:
"The 'bird's powered by a Littlefield supercharged Buick 401 Nailhead originally in a 1960's drag boat. The Nailhead sports a shop-fabbed blower manifold, custom pistons & rods, a wild Comp Cams bumpstick and lifters, custom valve springs and hi-flow valves, mild port work, custom pushrods, custom headers made in-house, vintage Weiand valve covers, dual Buick Wildcat Rochester 4 Jets that were modified for use with the blower with custom linkage, Nicson front cover/engine mount, custom motor plate, custom oil pan, and is backed by a built Buick ST400 transmission from a 1965 Riviera."
Can you say CUSTOM FALCON!!!???
Can't wait to hear what a blown Buick 401 Nailhead sounds like? Me either: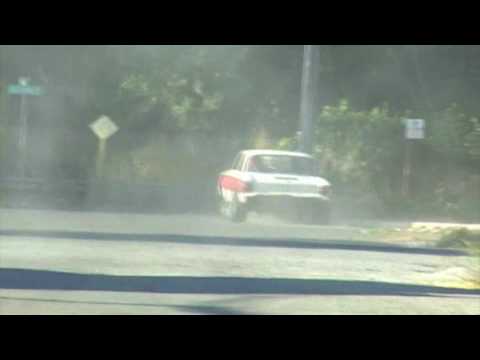 Scotty continues… "Front suspension is an un-dropped straight axle with custom made two position shackles and panhard bar. Rear suspension consists of stock leaf springs with custom 66″ long heavy wall ladder bars. Rear axle is a Lincoln Versailles 9″ unit with 4.56 gears. Tires are Hurst Racing Super Cushions in front, and Hurst 30×10 Piecrust slicks in the back. Wheels are Vintage American Racing Magnesium spindle mounts up front (no front brakes) and vintage Shelby Cal 500's in the rear.
The interior's sparce consisting of bucket seats set back almost to the rear seat with a custom gauge panel filled with a Sun Super tach, and vintage Stewart Warner oil, temp, amp."
"This is a period correct exhibition car, so it does not conform to current NHRA spec. The car is built to the 1966 NHRA rule book. It has the maximum crank center height of 25″ and near the maximum amount of engine set back as well. Maximum setback was determined by the wheelbase. You are allowed 10% of the wheelbase measured from the axle centerline to the first sparkplug hole. This engine is set back 10″ from axle center. To adjust the distributor, all you need to do is stick your hand through the stock speaker location in the dash!  haha, that's RAD!  The car sports a full .120 wall frame that is tied in to the .120 wall roll cage. It's very sturdy."

Here's a picture of what the Bird might look like with its finished graphics scheme.  Looks sharp!
"When the car is finished it will be painted in white and red, with all the period trimmings such as gold leaf lettering and water transfer decals. All work on the Strange bird is being done at Chuckles Garage."
Here's a shot inside Chuckles Garage.  Nice to see all the appropriate safety gear in place.  Safety is no funny business! (Get it, 'cause its the "Chuckles Garage"?  haha, I try…)
Talk about "backseat driver", look how far back the driver sits.  All in the name of weight transfer!  The 60's Gassers were so cool!  It's awesome to see a car built to the old rules like this Ford Falcon.  I wish more shops built historic machines like this.  Respect.
I really like this view from under the front end of the Strange Bird. (Except for the fact it's on a trailer instead of flying free!)  These uncollected-dust-storming white headers look like they could lift the front end of the car off the ground with a solid mash of the Go-Pedal! Note the heavy-walled 4-story ladder bars.
Another interesting view where you can see the driver's (backseat) position.  You'll also see the rear mounted radiator with punched holes in the decklid to make it breathe.  I'll take a metal, stock bodied Gasser over the Fiberglass fliptop versions… how about you?
Here's a parting shot of the Falcon Gasser gettin' on it hard out behind the shop.  Check out the video below showing progress from April 2010. Scotty's been busy!
To see more of Chuckles Garage builds, check out his Hot Rod Fab shop here, or get a taste for what Scotty likes and builds Chuckles Garage Blog here.
I couldn't resist showing more pics of the build and a few details we mentioned in this story. All photos my Mitchell De Moor (Gambino Kustoms) and Scotty Birdsall (Chuckles Garage)
For more Falcon fun, check out Pikesan's project: 1963 Ford Falcon Wagon Build
Tags
Related Posts
Share This