"Internet Barn Finds" #1: Miniature Hot Rod Engines
Before I dive in, let me introduce myself real quick.  I go by Hechtspeed on all the car forums I join.  I'm a certified car nut.  It doesn't matter what type of car, if its modified and customized, I can dig it.  I'm really excited to be blogging for MyRideisMe.  Hopefully I can bring cool content that you readers will enjoy. 
So, let's get to it shall we?  The internet is home to thousands, even millions of websites. That means there has to be cool websites out there displaying hidden hot rod treasures. This "Internet Barn Finds" series of blogs will venture into the world wide interweb to see what we can find.
Part 1 takes a look at a couple cool Scale Miniature Hot Rod engines. These are not your typical scale plastic model kits you put together during Christmas vacation, these are billet aluminum, high precision, CNC machined engines that actually run, some even powering 1/4 scale radio controlled hot rods.
The first Barn Find is from weberprecision.com. Searching through Weber's website you'll find detailed pictures of both the end product and the tools/machines used to build it. Said engine is this amazing supercharged V8 that took a few years to build. Weber says this is his first attempt at a running miniature engine. I say it was a successful one for sure. The horsepower is unknown, but this little sucker revs to 12,000 RPMs! Yeeehaa!
It displaces 5.655 ci using a 1.000″ Bore and 0.900″ stroke topped off by a supercharger. Check out the rest of the spec sheet, its a work of art. See the video:
The second Barn Find is conleyprecision.com, a link from weberprecision.com.
Conley has quite a history of building running scale miniature hot rod engines… try 30 years! Conley's website has some nice videos of his latest miniature engine. The coolest part about this engine is it's mounted in a driving, miniature hot rod. You'll get a kick out of these video's. I just kept shaking my head in amazement!
Conley's latest Supercharged V8 is called the Stinger 609 (named after the cubic inches, but be careful where you place the decimal point, that's 6.09 ci ha ha) Enjoy!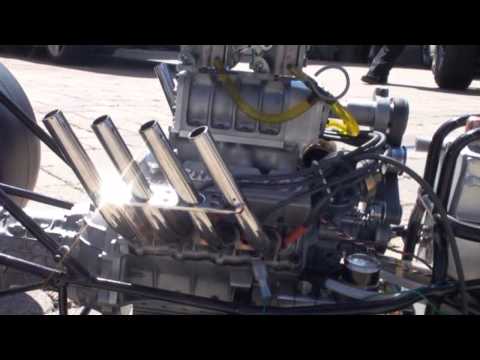 That's all for "Internet Barn Finds". Post up in the MyRideisMe Forums your own hot rod Internet Barn Finds!
Hechtspeed
Tags
Related Posts
Share This