Hot Rod Honda Looking For Crazy 8's
If I were to tell you about a drag car that made about 1100 horsepower, weighed 2,550 lbs with driver and has run a best of 9.0 seconds at 170.97 mph in the quarter, would you think of a Honda Civic?    That's exactly what we have here.  This Civic hatchback is owned and built by Chris Miller from NRG Tech out of New York.  It started its automotive life as a commuter car getting high 30's mpg as all Civic's do.
When you get right down to it, the Honda Civic can be compared to cars in the hot rod world like the Ford Falcon, Chevy Nova II or even 30's Ford Coupe.  What, "am I crazy" you ask?!  Yes I am, Car Crazy, but just follow me on this path for a minute.  Consider 30's Fords came with 4 cylinders and were the average Joe's vehicle (as average as a 1930's car owner was since they likely had more money than average…).  30's Fords are now seen with every V8 imaginable, go 200+ on Salt Flats, sub 10 seconds on the 1320 and now even the race track/autocross (a la Factory Five's '33 Hot Rod Kit car).  In the mid-1960's, the Falcon and Nova came with econo inline 6's and were the base economy car in their day.  Now look at Falcon's and Nova's!  They get swapped with V8's big and small.  Because of their lightweight and engine swaps from bigger cars, they become the ultimate drag or street car.
Getting back to Miller's Civic hatch, this car came with a 1.6L SOHC inline 4 cylinder making about 100hp.  It may have not even had A/C, power windows or Cruise Control.  The Civic hatch is the epitome of economy and "Civility".  Chris and NRG Tech have done what all hotrodders do.  Take the drivetrain from a more sporty sibling.  In this case the 1994-2001 Acura/Honda Integra GSR and Type R came with 1.8L DOHC fours making 170-195hp or the 99-00 Civic Si which made 160hp.
Chris says this about what's under the hood, "The power setup is NRG Tech's spec'd 1200 hp B-series long block package and a small 72 mm turbo (regulated by the rules of the Outlaw class) with engine management currently handled by Motec. 1.9 liters is currently fed a healthy 40-45 lbs of boost, depending on track conditions.  Without a dyno pull, Chris estimates by fuel calculations, it should be making around 1100 hp and close to 700 foot lbs. We would like to thank Precision Turbo for their constant support and their dedication to the improvement of their products."
The "magic" is in the MOTEC computer tuning.  That's the only way to get a small 4 cylinder to make over 1000hp on a consistent, reliable basis.
Chris says "The car started out as a street car running 10's.   I just wanted to keep pushing the envelope and see how far I could get a street car to go. I never dreamed it would be where it is now when I started with it in 2007."
Thanks to Chris and the NRG Tech crew for sharing their race car with us at MyRideisMe.com.  This is a clean looking Civic (that cool camo is vinyl from konstantdesign.com) that performs like a true hot rod.  Some traditional hotrodders may not dig this car, but you gotta admit, it takes the same passion for racing and cars and the same hotrodding tricks to go this fast with an economy car.  I love it!  What do you guys think?  Let us know with a comment below!
Hechtspeed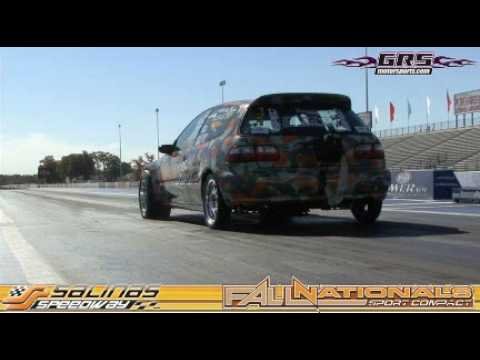 Tags
Related Posts
Share This