Modern Muscle at Carlisle Performance and Style
Carlisle Performance & Style 2010 showcased many highly detailed modern rides like Joey Talarico's 1999 Mitsubishi Eclipse.
But, Mother Nature tried real hard to stop 14th annual Carlisle Performance & Style Show in Carlisle, PA. Despite the ferocious 40 mph wind gusts and the threat of morning rain on Saturday, over a thousand tricked-out cars, trucks, and SUVs turned out to participate in the festivities.
The show organizers were trying real hard to overcome the bad image the show gained back in the rowdy early 2000s when it wasn't uncommon for the local police departments to make a couple hundred arrests during the course of the weekend. Their efforts to be more family friendly could be seen by such simple items  as "Parental Discretion Advised" signs posted on some of the buildings that contained content not suitable for the youngsters and passing out carnations to mothers on Mother's Day Sunday. For the most part, attendees were more laid back and respectful of others.
The show was also changed to encourage more domestic muscle cars. There was a decent showing of Mustangs, Camaros, and Challengers on the Carlisle Fairgrounds. There was even a "Performance Pavilion" were all the Modern Muscle cars had to be producing at least 350 horsepower to be displayed which left out most of the four cylinder crowd.
While the number of high end vehicles was sorely lacking, there were a few builders scattered about with their luxury rides. AfterFX Customs was one shop that brought out a few of their rides including their race ready Lamborghini Murcielago LP640. Seeing these high dollar marvels inspired me to buy a lottery ticket later in the evening. If you won the lottery what car would you buy first?
What would one of these shows be without good entertainment? There was something going on all day. Events included: NICOfest drift exhibitions, Playboy model Jesse Layne signing autographs, RIX Magazine model search, DJs, a burn out contest, Club Olympics, and of course the Ms. Carlisle Bikini Contest, and more.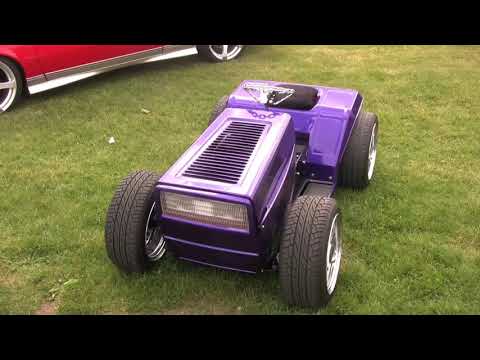 Carlisle Events posted a short YouTube video with some of the highlights of this year's show.
So, were you there? What did you think of the show? I thought the show was okay but if they want to keep charging the high entrance fees they need to get some more high profile vehicles and entertainment to participate.
Check out the Picture Gallery for a few more photos of the show.
Tags
Related Posts
Share This