Record Breaking Runs – Speedweek 2011
Speed Week 2011 Results – Bonneville Salt Flats
As Sunday was ending out on the Bonneville Salt Flats, lurking black clouds were rolling in and lightening was breaking all around. People were packing up their pit areas very well and getting off the salt. Was there going to be a storm? Would it halt Speedweek 2011?!?
There was a storm! The rain poured down not long after the racing area closed up at 7pm. Luckily though, it didn't continue for long. Early the next morning as we drove out at the crack of dawn to see what Monday held in store – this is what we found.
Out at the starting line however, the salt appeared like it might be all right. Cars and crews were lined up for record-confirming runs. (Not sure what it takes to set a record at Speedweek? Read more about it by clicking here!)
Everyone waited around while officials made sure everything was in order for the fast times of land speed racing. After awhile a number of the crews were lead for a drive down the track to check out conditions for themselves. Returning with with reports of dry salt and low winds out at mile marker 5, time trials soon began.
First a motorcycle was off and then it was Norris Anderson and his already record-breaking Studebaker Pickup #898. On down the line the cars went.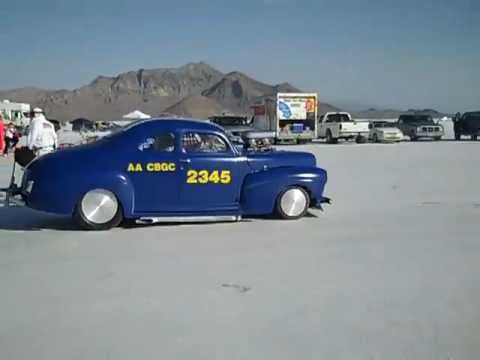 Not everyone was able to confirm their records, but there certainly were plenty of high speeds and a number of record-setting results! Watch the video above to see and hear this in action!
The 1941 Ford known as the "Flying '41" # 2345 comes out of Gladstone, Oregon and is powered by a 525″ Chrysler Hemi V-8. Owned and driven by Tom Mersereau, it was up against a record of 179.490 mph in it's AA/CBGC class. (AA indicates motor size and CBGC stands for Classic Blown Gas Coupe). The Flying '41 completely blew the record out of the water with a result of 222.501! Good job guys!
The orange 1969 Dodge Charger known as the "Daytona Charger" #1001 is owned and driven by Lee Sicilio of Ft.Worth Texas. It runs with a 498″ Chrysler V-8 and was up to break a previous record in it's A/CPRO class (Classic PROduction) of 239.904 mph. The Daytona Charger set the record with a result of 242.011.
Also setting a record that morning was this good looking 1968 Plymouth Baracuda #6969. With a 528″ Chrysler Hemi V-8 powering it in the AA/BGC class it set a record at 241.592 mph.
As soon as the people of the Southern California Timing Association (SCTA) get to it, the results will be posted on their website at www.scta-bni.org. Until then, I snapped a couple of shots of the record setting results for Sunday and Monday of Speedweek.
Tags
Related Posts
Share This