SATA Auto Paint Guns – Coolest Displays at SEMA
Sata Spray Guns -Best Product Display at SEMA 2010

How funny is that dude in the reflection?!
At some point walking SEMA, just before your legs give out and you hear a very nearby bar calling your name, there's always one more thing to draw you back in.  Often that's a booth babe or some amazing custom car, but sometimes it's something so creative you owe that vendor a much closer look!
Check this short video from SATA Paint Guns display at SEMA 2010: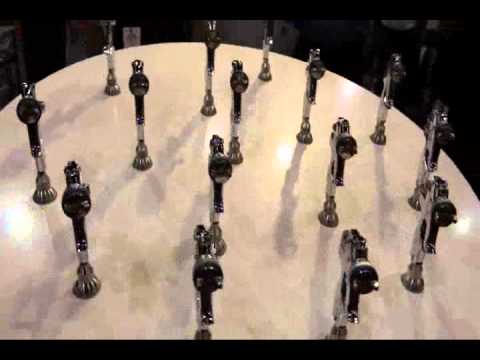 See what's happening there?  The SATA guys put together a fantastic display that included this table of SATA auto guns all following people as they walked by.  A  discretely mounted camera nearby made it all happen… that and some pretty trick controls! How cool is that?! I think most people, like me, didn't even know they were being followed, but once they saw it agreed. Very cool!
Couple the freaky paint guns with the tried and true hot rods and customs in your booth and you see why SATA had one of the best at SEMA 2010.  The Chip Foose influenced 2010 Camaro SS you might recognize, but have you seen this hot rod before? They guys tell me it's a 32, 33, 34, 36 Ford Coupe. Confused?
Built by Ken Reister's rod shop in Littleton, CO (Ken, where's your website??) this car has over 1000 hand made parts that blend the best of 32-36 Ford Coupes into one incredibly fine package. Hiding under the hood is a Ford SVO 392 running Kinsler fuel injection converted to electronic. Appearantly, the way it burns those skinny rears has to do with it's nickname, "Lightning Rod". With two Ridler Awards to his credit and one America's Most Beautiful Roadster Awards, Ken's a builder to know and watch.
Along with the hot rods, SATA featured airbrush artists painting live all week. The photo up top is part of this collection.  I want the pin-up model on the "SATA at Bonneville" in the top corner. Two of my favorite things!!
Wrapping up the "Best of SEMA" displays, this was FUN!  SATA has a training program that simulates using their SATAjet 4000B paint gun. That's me in action showing that I ain't a painter. I was able to make some improvements on my second test. I improved from a 389 to 501 mostly by controlling the gun distance better… but I watched a dude just before me shoot a week's highest 689 that probably won a prize or maybe a job somewhere!
I started talking with Director of Sales and Marketing at SATA Tony Larimer who explained some of the benefits of the new SATAjet 4000B and in particular the "RP" or reduced pressure paint guns. They also make an HVLP (High Volume, Low Pressure) paint gun as well, but I wanted to know what would be best for home painters, so we talked about the RP version.
Due out in February, the SATAjet 400oB RP is newer than new, but looks to be worth waiting for. Tony recommended the RP for some solid reasons:
17-32 psi max pressure (so no big-time air compressor needed) – Only 10.2 cfm at 32 psi
The HVLP spray gun is a paint, "Super Saver" where the RP spray gun gives "Super Speed"
With the reduced pressure at the aircap and advanced nozzle design, this spray gun give you:

Transfer efficiency higher than the HVLP 65% rule yet
Faster working speed and great atomization – Think "more paint on the panel" not in the air
Sounds good, but it'd be nice to try them both or work out a great how-to for paint. Tony, I'll be in touch!
So does this get your vote as the best display at SEMA? For more info about SATA paint guns, check out their website: http://www.sata.com
Tags
Related Posts
Share This