Tanks Crushing Cars at the Tank Museum
2011 AAF Tank Museum Military Extravaganza
Editor's note: Bubba got some great shots of some of the baddest rides around on a recent trip to Virginia. When at the helm of  one of these tanks… protecting yourself and the soldiers with you, this is "My Ride is Me." So endulge us here and enjoy the heaviest hot rods around!
What do you do if your hot rod is a 44 ton M60A2 tank? You crush stuff of course!
In the three years that I have been working for MyRideisMe, I have covered hot rods, customs, street rods, lowriders, classics, rat rods, race cars, and a many other vehicles. It' s hard finding different vehicles that I can share with you. So when I saw that the AAF Tank Museum in Danville, VA was holding their Military Extravaganza once again I knew we had to be there.
The Tank Museum houses over 117 tanks and armor. Many of these pieces are rare like this US M1917 known as a "Six Ton Special".  Out of 950 built, only about a dozen still remain.
What's it like to stare down the barrel of a Soviet tank? The museum offers you the chance to do it without getting shot. Here you see a V-12 powered Soviet T34.
Captured from the Iraqi Army by U.S. Forces during Operation Desert Storm, this Russian built T-72A is depicted in more car crushing goodness.
The museum has more than just tanks… they've got many other items of war like this US M56 Scorpion self-propelled gun. Built by Cadillac in the 1950's it sports a 90 mm M54 gun.
Several armored personnel carriers (APC) are on the museum floor for you to look over. Here is a 1960's Hungarian PSZH-IV Armored Personnel Carrier which is also amphibious.
While the vehicles are definitely the biggest draw, many other events were going on during the Extravaganza. Several types of vintage machine guns were fired like this German MG42 machine gun.
One of the real reasons we made the trip down to southern Virginia was to witness the awesome power of the museums flame thrower demonstrations. Throughout the weekend they were firing off a couple of WWII era models. Very scary!
Back inside the big boys were playing with their toys. Instead of firing explosive shells these scale models use infrared pulses to disable the enemy. The museum boasts one of the largest indoor RC battlefields in the world.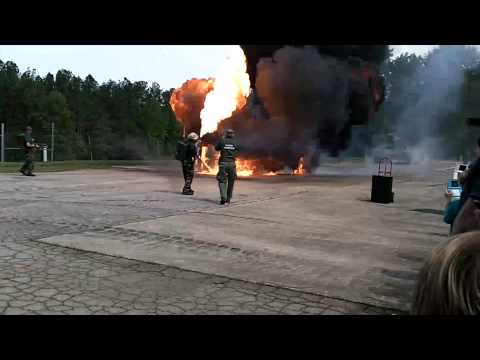 If you're a military buff and you are passing through south central VA you should make a stop at the AAF Tank Museum. Just be forewarned that the museum is an actual armory and they take security very serious. You must pass through a metal detector and there are armed guards but as long as you don't act stupid you will have a great time.
Tags
Related Posts
Share This