Twin Huffers on a sick Model T
Ron Ginn from Albuquerque, New Mexico ain't playin' when it comes to building ridiculous horsepower Model T's. I asked Ron, "Why two blowers?" and he kindly expanded on the theorem: "Injection is nice… but blown once is twice as nice!" I take that to mean, why the hell not?
Like so many folks at the 2008 Goodguys Southwest Nationals in Scottsdale, AZ, you're gawking at 572 cubic inches of Chevy power in this highly detailed Model T. I won't call it a "Ford" because from looking at Ron's garage here at MyRideisMe.com, I think Ron's more of a Chevy guy. Twin Blown
Stepping back, the ride Ron calls, "Nas T Too" was a 4 year build with everything but the paint and interior done by Ron in his home shop. That includes milling or turning several custom pieces on the car. Ron said that "dipping" into the hot rod fund to buy a mill and lathe was essential. He made alot of chips (scrap!) before he made any parts, but you might have guessed that there aren't many off-the-shelf pieces available for twin blown big blocks! Looking closely, there are alot of custom-made, one-off pieces.
Ron's an engine builder by hobby which is why he likes to go over the top with the engine. What's "Over the top" mean? How about 1348 HP at 5800 rpm with 985 ft-lbs of torque. Ron was quick to explain that there was a little more in it but the tires started slipping on the dyno rollers. (Big deal Ron, that happens to me in my T too… NOT!) There's a total of 12 lbs of boost from both blowers, so they're seriously under driven.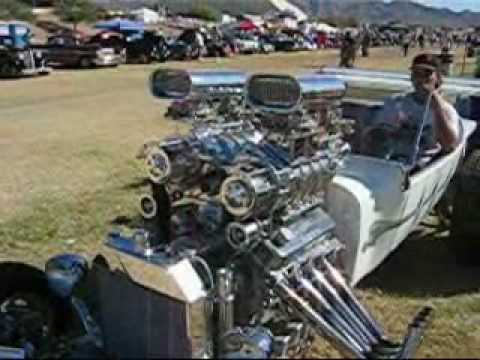 Any time you've got over 1000 ponies in a car that only weighs 1885 pounds, you're in for a wild ride! Hanging out with Ron for only a few minutes, we heard the common question, "How fast is it?" To which Ron politely answered, "I don't know!" I think Ron's years have given him the wisdom to give respect where it's due. That's alot of power! Consider that the 425 hp in the SRT8 Challenger represents a HP to weight ratio of 9.8 lbs/HP. Ron's at 1.4 lbs/HP!! I could see that Ron's not afraid to lite'm up here and there, but a wide open run on a back road didn't seem to interest him much.
Ron does like his entrance. The stares and sideways glances of folks wondering, "What is that!?" really get Ron going. It's good that people know that yea, it does run, and it sounds wicked. Lopey. That's a word now, add it to your vocabulary. Blower surge could maybe be tuned out of this thing a bit, but I'd vote against it. In fact, It's beautiful. This video gives you a taste of what it's like, but doesn't show how at each surge, the T's looking to break those huge rear tires loose. Awesome.
In the days, or 4 bucks a gallon, I'm sure Ron heard it more, but he said he always gets the, "What kind of mileage do you get?" I think I'd be more likely to ask, "Do you change your shorts after every ride?" His show card says, it all when it says simply, "MPG: Not real good". Yep. To be more specific, he gets about 35-40 miles from his 15 gallon tank or about 2.3 miles per gallon.
After my 30 second video, Ron's hand was out. "That'll be seven dollars."
Tags
Related Posts
Share This