Bonneville Speed Week 2011 Baddest Race Cars #5
The Fastest Car in the World – 300mph Sports Car
Does this long red something-or-other get your heart racing? It should!!
The long, slick nose see here cuts through the air with ease at a record shattering 305.596 mph. With the graceful design and three-large top speed, this 1971 Triumph GT-6 easily earns honors as Bonneville Speed Week 2011 Baddest Race Cars #5.
Feel slighted that, "This isn't the fastest car in the world!?" Well, what is then?
Consider, for a second, this sleek, not-so-little Triumph flat out WHOOPED the Enzo Ferrari running in the same class. The Enzo, owned by RSL Racing Richard Losee, had the record from last year at a, seemingly soft (gulp), 237.871 mph. This year the Enzo crew, with their hired helicopter not far behind, topped out at less than two-bills…
Ripping the record previously held by an Enzo Ferrari, easily one of the fastest cars in the world, by about 65 mph… that's hot enough, but truth is, the Triumph was ON FIRE on the record backup run! More on that in a bit, let's learn about this car.
Click here for all of MyRideisMe.com's Bonneville Salt Flat coverage.
So what is it?
Look closely and you'll see a 1971 Triumph GT-6. The SCTA class the Triumph and Ferrari compete in is C/BFMS. If you're like me and still learning the classes, that's a C engine (306-372 cu. in) in a Blown-Fuel-Modified-Sports car. Got it?
So your typical small block wrapped in a not so typical body.  From cowl back, the body's all Triumph GT-6, but sports a clean 5 inch (totally legal) top chop. Looking the other direction it gets really interesting… Stretching to a total wheelbase and class max of 130 inches, the hood's an aerodynamic masterpiece penned by Jim Cooke. Fab work went to Nicomia of Arizona. Nicomia's a design and fabrication shop capable of, so it seams, a killer museum exhibit or a custom kitchen, or this race car nose! How's that for diversification?
With all the go-fast on this car, it's still just a "Grocery Getter" This is a photo taken through the stock back glass of the Triumph pasted on as a sticker.
Sticking with the body, I asked about wind tunnel testing. Owner/Driver Keith Copeland and crew chief Mark Hansen plan on booking time with my buddy David Salazar over at A2 Wind Tunnel. If you're curious about wind drag and how it relates to horsepower, click the link. Being the curious engineer, I then followed up with, "Then how'd you set the length and angle of the rear wing? And how'd you choose the height of the wicker?" Mark licked one finger and held it up feeling the slightest breeze… "Like this". So, I guess there's some aero tuning opportunities!?

The interior of the Triumph is all business. (Click to enlarge all pictures)
The engine isn't the NASCAR ready small block you might expect. When I asked, the team downplayed it somewhat… it's a Brodix block and heads coming in around the middle of the C-class at 360 cubes. Twin turbos and an ice-charged intercooler raise the pressure just a little… The team does a phenomenal job of packing everything under the hood thanks to a custom made low profile intake manifold with Moran Motorsports electronic fuel injectors.
Surprise!
Something you might not have guessed from the front end design? This car's a front wheel drive. As common as that is for modern cars, that's nearly unheard of in racing, including Bonneville. MyRideisMe.com previously learned about FWD hot rods when we featured Bonner's Bad Berkley, the current record holder in AA and A class /BGMS. That's the same body spec as the Triumph, but running on race gas and bigger engines.
Salt built up in the front wheel opening where the power's put down. The racing surface is packed pretty well, but off the track its sticky…
So I had to ask Keith and Mark about choosing to power the front wheels. Keith explained that for car-like classes of sports car and coupe, you can run either, FWD or rear wheel drive, it doesn't matter. You just can't have ALL wheel driver. Keith continued:
"I choose to go front wheel drive because I spun the back tires in 2008 and that did not work out very well.  We did some calculations and thinking about the handling and thought front wheel drive would work. Bonner Denton had also shown a car could go fast with front wheel drive.  When Mendeola was able to provide a nice trans axle package it cemented our decision. You might see more front wheel drive in the future!"
Mark added some easy to follow thoughts… "The car's like a dart. The power and weight push the car at speed and the rear stabilizes everything. Rear wheel drive cars are like throwing the dart too… backwards." I think these guys are right and there'll be more super fast cars running FWD in years to come.

You guys got your cameras ready? – Mark Hansen at the Starting line…
Building a record Bonneville Race Car
Taking the build chores and operating as crew chief, Mark Hansen. Mark's the owner/operator of the of Tucson, AZ shop called Strange Fab Metalcrafts. You might hear Mark built this car in nine months and Mark will only kind of confirm that. Mark and Keith put about 3 months of design work into the car before starting fabrication. Either way, in a little over a year, this car went from nothing to a record setter.
During the build, no expense was spared for safety given the mishap Keith mentioned from back in 2008. "You don't ever want to drive up on car you built that crashed" Mark explained, "It's a bad feeling you don't ever want." These guys know that things can go wrong, and even though they set a massive record, things did go wrong.
Here's how things look at the start:
In case you haven't been following the process of setting a record at Bonneville, there's a qualifying run, then Impound, then a back up run. The Black Salt Racing team was kind enough to supply footage from both runs. Here's the qualifying pass at 313.506 mph: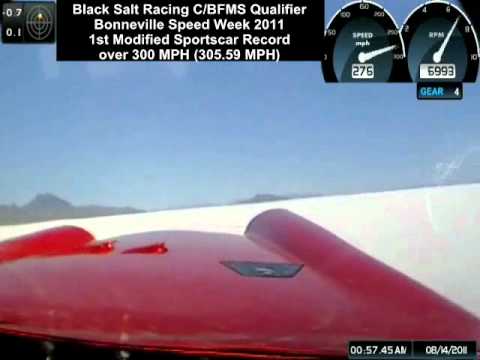 Except for a little wheel spin, a very clean run! On-board gauges show a 315 mph top speed and how show Keith hit 200 mph before shifting to 4th gear! You'll also see some smoke coming from the engine compartment at the very end of the video. The smoke, starting from the 2 mile, alerted the Bonneville safety crew that were already en-route to Keith who pulled the fire bottles just as a precaution. The trans axle and engine oil breathers spit out quite a bit of oil causing the smoke. With only 4 hours to fix/change/repair anything in Impound, the team added catch cans and hoped for the best.
That night, a roaring storm ripped through Wendover/Bonneville drenching the folks camping and partying at the "Bend in the Road" leading to the salt. The race track itself looked fine, but was a little wetter than usual. Grease Girl Kristin snapped some great photos leading out to the Salt. As one of the competitors attempting to set a record, Keith was one of the first to the line. That's where we met.
So hear's the record setting run that topped out at 297.687 mph including the fore-mentioned little fire at the end. Turns out the catch cans didn't catch it all…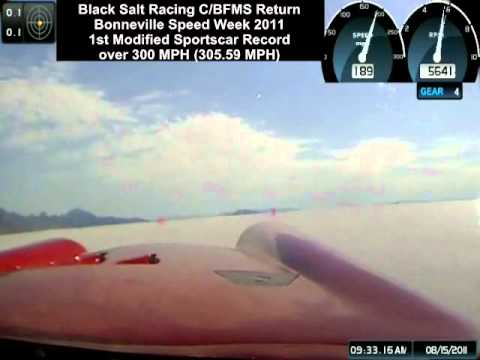 So now you know why my detail shots show a messy, charred record setting Triumph instead of a detailed and sano underhood masterpiece. Oh well, you get the idea! But hey, what's a British car without a little oil leak?

Mendeola trans axle tucked into the tight fit nose of the Triumph

This is the cooling water tank for the car. There's a tiny little radiator mounted elsewhere per the rules. I doubt they need it for a 5 mile sprint.
Charred and melted remains of a stout Brodix race engine.
SCTA-BNI Inspection crew checks the displacement in Tech after setting the record. See the stopper at the top of the cylinder indicating the air displaced by one cylinder? Multiply by 8 and that's your displacement. A blown head gasket kept the process interesting. It showed the displacement of 2 cylinders instead of one!
You can catch up with the Black Salt Racing crew at their website. Like everyone on the Bonneville Salt Flats, they're great people and you'd be wrong not to say hi and be blown away at how friendly they are. So let'm know you're proud of the slick red Triumph in a comment below!
I should probably mention in every Bonneville story that the salt surface is decaying. Please take a minute to check out the Save The Salt campaign at www.savethesalt.org. All racers are concerned that we may loose this iconic racing if we can't save the surface we race on.
Like what you see? There's more of everything Bonneville Salt Flats right here.
Tags
Related Posts
Share This