Hilarious Penalties for 24 Hours Racing
It was my first time to a 24 Hours of LeMons race. As soon as I could see the track, I knew I wanted to do this. How else can you race all day for so little money?  With a set of not-so-serious sounding racing rules we told you about in a another post, there were some very serious safety rules in place at the track. Off-track excursions or spins were subject to penalties and that's where the 24 Hours of LeMons style fun started. (click the picture to read)
The penalties for a track infraction are wide reaching.  For the worst kinds of repeated offenses, including total disdain for judges, there were simple time penalties, but with a bribe here or there (of course bribes are legal!) you could get off with a written penalties like the ones above.  I won't guess the political affiliation of "Chief Perpetrator" Jay Lamm.
So what other kinds of penalties did I see? The top photo shows the tires of one team in the stands so they could, "watch and learn how to race."  Too funny! The car was on jack stands not far away.
For the rest of the penalties, I grabbed some video.  First up is the "Ride the Whip" penalty.
Team Mohawk and their Dodge Neon enjoyed this ride.  The lady drivers got into it! Here's how it started: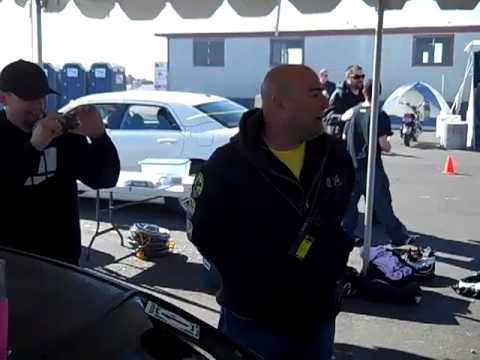 Next is the "Cultural Revolution" penalty imposed by one of the judges and Jalopnik writer/editor Phil Greden. Phil explains how Mao thought his people were "insufficiently revolutionary" and needed a cultural revolution.  "All hail the great helmsman!"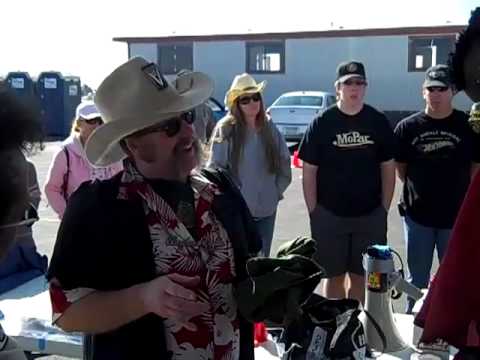 Finally, you're treated to the Marcel Marceau (yea the French mime) penalty. Here you'll see Jay explaining why it's not OK to spin on the track or to drive in a race with one arm out the window. This is the "B Team" BMW we mentioned in the 24 Hours of LeMons driver's story.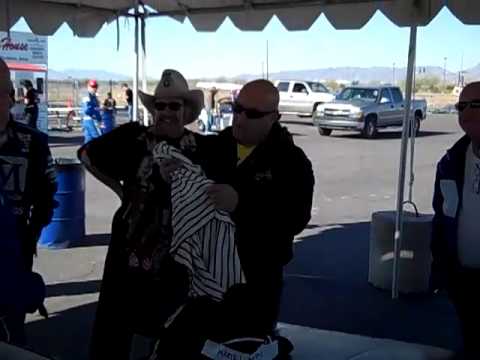 It was fantastic to see all the drivers and judges having a great time. There was no ill tempers and no excessive pride getting in the way. Maybe it's cause there's only $1500 at stake or maybe as one racer told me, "This is our time to not think about our real lives."
Everyone needs that.
What car are you driving in the next 24 Hours of LeMons? I can't wait to see it!
Tags
Related Posts
Share This