Insane Drifting Diesel at Optima Invitational
Mike Ryan and his Freightliner Drifting!
10,000 lbs and over 3000 ft-lbs of torque. This was one of the highlights of the Optima Ultimate Street Car Invitational. Follow along as Mike get's her sideways at Spring Mountain Ranch.

(Click to see any picture full size)

If you listen closely, you can hear Chad Reynolds from Bangshift.com quietly whimpering in the passenger seat as they use every bit of the track drifting out of this turn.
I had to share this one too:
The aftermath of one of the smokiest burnouts ever. Laying on the ground, now in powder form is the handmade Michelin X-1 tires abused regularly by Mike and his Freightliner. Overkill with a side of crazy. I love it.
Last thing… Here's a video of Mike Ryan warming up for a Formula Drift event with drift champion Samuel Hubinette. Worth a watch as Mike works the bugs out and gives a Make-a-wish child the ride of his life.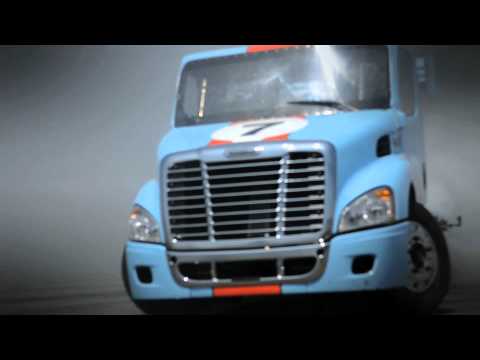 How can you not like and share this?
See all of the 2012 Optima Invitational Stories & Pictures here
Tags
Related Posts
Share This