SEMA 2012 – Cool Rides #2 – Fireball's Holman Moody Galaxie
1963 Ford Galaxie at SEMA 2012

(Click to see any picture full size)
Outside near Ford's drifting exhibition sat this purple-ish beast of a 1963 Ford Galaxie. If you're a Ford fan, when you see, "Holman Moody" your curiosity peaks (or it probably should). Here's a quick summary of the Holman Moody evolution…
John Holman moved from the sun of Cali to North Carolina to run Ford's NASCAR team in 1956 and teamed up with Ralph Moody. Soon after, Ford begins to dominate NASCAR amid rumors of cheating. By 1957, still winning, Ford and other OEM's pulled out of racing after the AMA (Automobile Manufacturers Association  banned auto companies from using race wins in their advertising.
Seeing an opportunity, John and Ralph formed the "Holman Moody" partnership in 1957, then Moody, with refinance money from his airplane, spent $12,000 to buy up Ford's surplus racing gear. $12k!! Assembling the, eh… leftovers, Holman Moody Fords won their first two races in 1957. From there, with a shop on the Charlotte Douglas Airport they started making all parts needed for race cars, later selling those parts to other racers. Eventually, they teamed with some of the best race drivers ever, including Edward Glenn, "Fireball Roberts".
From July 1957 to January 1974, 39 drivers combined for 366 races, 83 poles, 93 wins and 2 overall championships. That's quite a winning history for any race effort, but on top of that, Holman Moody are responsible for some great, still used today innovations in safety: fuel cells and fuel check valves, the roll cage and window nets to name a few.
The minimal, simplistic inside of a 1963 NASCAR Galaxie.
The 1963 Holman Moody Galaxies  used a "Q" code, single 4V, Low Riser, CO, 427 FE engines. Tubular headers didn't come around until 1965, so all that big block hot air raced through (extremely desirable and rare) factory cast iron Fomoco 427 exhaust manifolds.
Quoting from NASCAR.com:
Perhaps the greatest driver never to win a NASCAR Winston Cup title, Roberts accumulated 32 wins, including the 1962 Daytona 500, in a career that spanned 15 seasons before his untimely death in 1964 from injuries incurred in an accident at Charlotte Motor Speedway.
The name, "Fireball" came from Robert's fastball! He was a pitcher in his younger days, and I found he was also called, "Balls" for his driving style.
Unfortunately, Fireball Roberts' racing career doesn't have a happy ending.
On May 24, 1964, at the World 600 in Charlotte, Fireball Roberts, after qualifying eleventh and starting mid pack, spun avoiding a collision between Ned Jarrett and Junior Johnson on lap 7. Roberts' Ford Galaxie slammed backward into the inside retaining wall, flipped over and burst into flames.  From the video below, Ned Jarrett confirmed that Roberts was climbing out of his car yelling, "Oh my God Ned, help me! I'm on fire!"  Roberts died weeks later from severe burns and complications.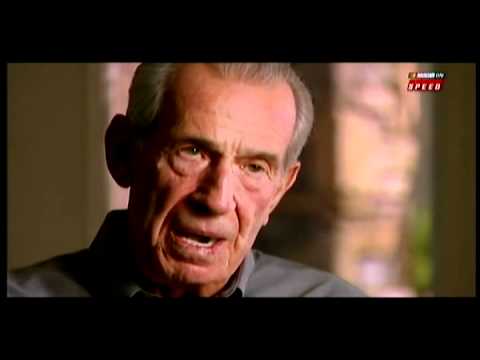 A tragic story, but that was racing in the 60's. It was dangerous and 1000 times more exciting with the REAL cars racing. Wish I could go back, don't you?
While I'm asking, who wouldn't love to rock a NASCAR-prepped 1963 Galaxie like this on your local cruise night?
Tags
Related Posts
Share This