Show & Go Hot Rod is Double Trouble
When you intend to compete for America's Most Beautiful Roadster (the AMBR) at the Grand National Roadster Show, you're asking for trouble. The time, planning, design and let's face it, high octane dollars required to build an AMBR contender make it a mission for only the top shops in the country. The folks at The Hot Rod Garage asked for "Double Trouble" and that's what they got by ignoring the lessons learned by recent AMBR winners. Past winners were modern-style show cars with custom milled billet goodies, one-off hand made body panels and alligator skinned interiors. Not for the guys at Hot Rod Garage, for them, it wasn't enough to make a show car, it had to have "Show & Go!"
The trouble first started when Steve Kormondy had a Brookville roadster body and an all aluminum, brand spanking new Ardun derived flathead sitting, waiting for the right project. Deuce roadster body, Ardun flathed… yea, that's trouble!
Not long after, Steve and the rest of the gang at The Hot Rod Garage out of Sand Springs, Oklahoma decided to pull in hot rod designer and illustrator, Jimmy Smith to brainstorm some ideas on what to do with Kormondy's, not so basic bones. Jimmy's known for his old-school, tranditional style hot rod designs and since they've worked with him on several past projects, it was a wise choice. Sketching the roadster high and low; with a hood then without and in a rainbow of fitting colors, Jimmy and the crew finally decided to build something befitting of that gorgeous Ardun mill… That's how "Double Trouble" was born… the perfect blend of "show & go" taking the form of a 1960's style '32 roadster that legendary gasser racer 'Ol Big John Mazmanian himself would approve of.
To be presented center stage in the main hall of the Grand National Roadster Show, an average "drag race" inspired machine simply won't due. No, this had to be over the top and tasteful all at the same time while capturing the fit, finish and blinding shine that could (could it really!?) turn the tables from the "modern" roadsters it would compete against. Outrageous and subtle?! Well, Jim and Jason Smith of Hot Rod Garage pulled it off in spades!
Here's a short list of the modifications:
Relatively stock-style deuce rails were Z'd in the rear to let the rear sit a tad on the hunkered down side while a gennie "heavy" '32 front axle was drilled and then chromed by Jon Wright's Custom Chrome. (Look for a future blog about CCP's chrome work for AMBR contenders)
Real Rodder's Wheels 16″ Halibrand inspired hoops ride out back while Radir's 18″ 12 spoke spindle mount drag wheels steer the way up front.
A polished, inside and out, Ardun headed flatmotor with a GMC style blower, all candy painted and detailed and hooked up to a 5 speed tranny. The somewhat exotic drivetrain culminates at a gleaming, ploished quick change to churn the gears out back.
Art guy, Jimmy Smith and Hot Rod Garage's Jason Smith designed the 60's drag/new car (from the time) upholstered interior. A little hardcore race mixed with mid 60's new car patterns fill the cockpit of the "show & go" roadster. Stitching was done by previous AMBR sewing genious Tracy over at the Recovery Room.
The interior's loaded with custom tricks! Check out the clear, red plexiglass dash! The gauges are mounted in chrome cups that are just barely visible… Of course all the wiring had to be, and is, a thing of beauty.
Further forward is a chromed, red plexiglass inner firewall panel. At first glance you'll wonder if you're looking through to the front of the car! This piece was artfully and skillfully gold leafed and pinstriped by 1-shot slinger Ron Meyers. Ron really out did himself with artistic flourishes throughout the car, simply gorgeous work!
Then, to push the "America's Most Beautiful Roadster" envelope, dig these custom touches:
Belled holes in the rear, rolled pan and inner front frame rail boxing plates.
Every bracket and clamp on this roadster is handmade and massaged into what you see here…..
Sick Ardun style flathead by engine guru Chaz Rose
Deep Candy paint by Jason Smith
The AMRB judges consider the list of modifications, that's why each AMBR contender has an accompanying "build book" that shows off the handiwork from start to finish and details all the modifications.
3 of the 5 special awards given to the 12 America's Most Beautiful Roadster contenders: Best Undercarriage, Outstanding Paint, and Outstanding Detail went to "Double Trouble" and the Hot Rod Garage.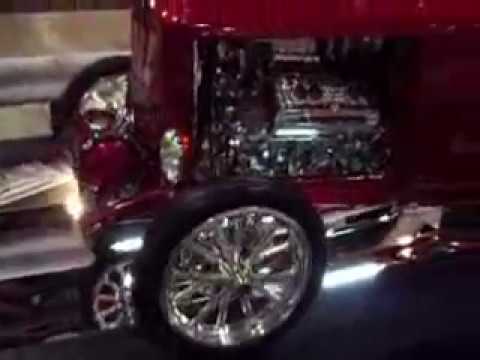 Maybe more importantly though, MyRideisMe.com is awarding the 1st annual, "America's Most Bitch'n Roadster" award to Double Trouble. OK, it's nothing compared to the real AMBR, but this car deserves every accolade available.
Finally, we're left to ponder, did the team at Hot Rod Garage and designer Jimmy Smith succeed at building a drop dead, over the top yet sinfully subtle show and go 60's '32 Ford roadster? Yes. That'd be yes.
Tags
Related Posts
Share This