Traxxas Scale Funny Cars – Everything But Nitro
Traxxas and  Courtney Force to Scale
In case you've missed every NHRA race this year, you should know that Traxxas has stepped up big time to sponsor quite a few professional drag racing teams, especially the gorgeous (and hard working racer) Courtney Force, daughter or the legend John Force.
MyRideisMe.com has been posting race updates from John Force Racing so we got this info about the 1/8 Scale Funny Cars that Traxxas is making now. Here's more info from the source.
TRAXXAS HITS IGNITION ON 1/8 SCALE RC FUNNY CARS FOR JFR
CHARLOTTE, NC (April 13, 2012) – NHRA Full Throttle Racing fans around the country have been awaiting a John Force Racing RC Funny Car model since the beginning of a new, unique and energetic partnership between Traxxas and John Force Racing was announced in early January of this year. Today fans at the 3rd annual Four-Wide NHRA Nationals got their first peek at the four JFR Traxxas Funny Cars during a photo shoot beside the Traxxas fan experience zone.
Traxxas revealed last week a collection of fully assembled, Ready-To-Race®, Traxxas RC Ford Mustang Funny Cars. The new models run 70+ mph and are designed to convey the realistic effects of the Funny Car class. The Funny Cars have all the current logos and paint schemes from the 2012 JFR Ford Mustang Funny Cars.
"I'm very excited about the new Traxxas RC Funny Cars. I know this is something that our fans have been hoping for and looking forward to since the beginning of the season and so have I. Traxxas really outdid themselves on these and I think they are going to be a huge hit. I can't thank Traxxas and Mike Jenkins enough for creating these for our fans," said Force. "I've always loved RC cars since I was little, so now to see my Traxxas Ford Mustang Funny Car come together as a 1/8 scale version that everyone can race is pretty cool. I wish I would have had one of these when I was a kid!"
Sold separately is an authentic, portable, and affordable drag race timing and scoring system. The DTS-1 unfolds and turns smooth asphalt into your own personal dragstrip. Dual beams on the starting line allow competitors to pre-stage and stage with laser-precise accuracy. You have the option to set up either a Pro or Sportsman tree for the countdown– a great way to experience NHRA Drag Racing in 1/8 Scale.
The following are available April 16th, 2012 and can be ordered at www.traxxas.com
Courtney Force Edition – Traxxas Ford Mustang Funny Car
John Force Edition – Castrol GTX HIGH MILEAGE Ford Mustang Funny Car
Mike Neff Edition – Castrol GTX Ford Mustang Funny Car
Robert Hight Edition – AAA Auto Club Ford Mustang Funny Car
Wanna see how they move?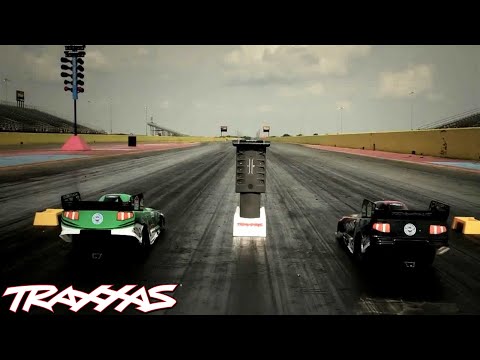 Thanks for the info!
Love the idea and they look wicked… but I owned a Traxxas 4WD truck… it burned NITRO! So when can I buy a 1/8 Scale John Force Racing RC funny car that also sounds and smells the part of it's big brother?
Need to see more of Courtney Force? Here' my Courtney Force interview from Firebird Raceway.
Tags
Related Posts
Share This