Is This Cool? – iPhone Controllable Color Led Light Strip
Custom Car LED's -Please don't do it!
It's bright pretty colors.  It uses an iPhone as a control interface.  You can program colors and presets.  It may be cool in another setting, but is it cool in your car?
MEA Mobile's new lighting kit, iGloLEDset is being marketed to the custom car market.  According to their promo text "Users can wave their phones in the air and control a 16 to 50 foot strip of 120 to 360 lights," but when you wave out your car window, you want people to wave back, not raise their hands to block their eyes.
What it is: The kit comes with a 16.4' strip with 120 full color lights, a Wi-Fi controller unit, and a power supply which can be plugged into an optional inverter.  You can also order additional strips which can be chained together.
What it does: You can segment the strip into eight sections, control the lights in real time using the accelerometer or your finger, program presets, control the speed, create solid colors or patterns and pause the patterns.
I caught up with Bruce Seymour from MEA Mobile who in addition to being the Managing Director of the company admitted to, at one time owning an '86 Camaro painted like Starsky & Hutch. He says, "In a way it's like a custom paint job, people can use it to make something unique or awful. We developed the iGloWiFi controller as a platform for leveraging mobile devices for hardware control.  We'll be releasing an API (Application Programming Interface) soon where you'll be able to control the lights from a variety of WiFi devices.  Lights are just the beginning.  With the accelerometer and GPS functionality already in mobile phones and tablets, car owners will be able to configure pre-sets for certain speeds or locations.  The possibilities are endless."
"And as for the Camaro, it was an attempt at a racing stripe which went tragically wrong; it lasted for a week until I could afford more paint. We all make mistakes at 17."
Can't wait to see it?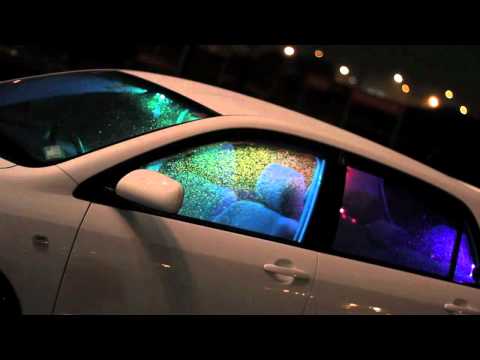 You may notice the steering wheel is on the right as MEA Mobile is based in New Zealand as well as in New Haven, CT.  The control app is currently available for the iPhone, iPad, iPod Touch and Android.  More information about the product is available at: http://igloledset.com
I've said it before LEDs, almost anywhere but in the headlights, taillights or turn signals can turn a great looking car (Like this Dodge Challenger) or a crappy looking car (like these PT Cruisers) into overdone, steaming piles.  The Challenger was at SEMA, so I could be wrong here…
I'm asking for your opinion on this one.  What do you think?  Is it cool?  Is it cool for a car? Did you just throw-up a little?
Tags
Related Posts
Share This