Day 2 – Speedweek 2011 at Bonneville Salt Flats
Speed Week 2011 Results – Bonneville Salt Flats
Out at Bonneville Salt Flats there's been racing all weekend as Speed Week 2011 is well underway.
The days are flying by during Speed Week 2011 as land speed racers race all types of vehicles down the Bonneville Salt Flats.
Streamliners make up some of the wildest (but fastest) record breakers of the bunch.
Cars that have more of a stock body (or modified like this one) are common as well. This 1953 Studebaker is one of my favorites – but then again I'm a little partial since I drive a Studebaker myself.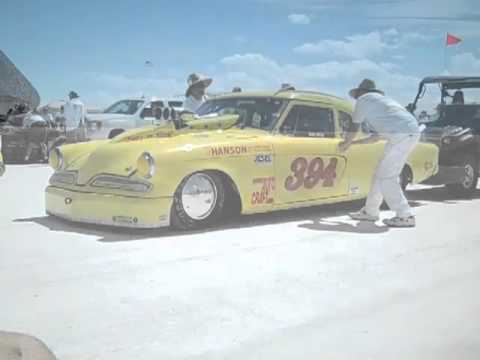 Seeing these cars is one thing – hearing them is another. In case you've never experienced Bonneville Speedweek for yourself, check out this video. It gives you a sample of starting line take-offs – the Studebaker, a streamliner, and a motorcycle.
One of my favorite kind of racers are belly tankers, like this one. This belly tanker is especially unique in that the driver is fully enclosed. The driver nearly lays down inside and looks down past their feet and out the clear part you see at the nose.
Roadsters are a popular land speed racing car as well. It's when I see these roll down the line that I'm reminded of the pictures I've seen of the early days out on the salt flats.
Not so nostalgic is this exotic Ferrari. Its cool to see an exotic out here at Speedweek, but I've gotta admit that overall these fans would favor a hot rod.
As the racers shift their way down the course, they hope for record breaking speeds. They also hope not to break anything, read all about that by clicking here.
If they're lucky enough to get record breaking results, they'll head over to impound. Once there, they have four hours to fix or modify anything needed and then it sits there until the following morning when they'll make a second pass to confirm their record. This Salt2Salt record-holding Studebaker is at it again…we'll see what the results are Monday morning!
The preparations for Poteet and Main's streamliner "Speed Demon" look a little more complex as they disassemble these turbos inside impound.
Of course not all the cars out on the Bonneville Salt Flats are there to race. It feels like you're in car heaven to see all the amazing spectator's hot rods floating across the salt to and from the pit area. Check out more spectator rods by clicking here.
Not everyone is into rat rods – but I think this Salt Flat Rat roadster is fantastic!
Whatever's racing off the starting line, it's fun to watch. I'll be out of bed at sunrise tomorrow to catch the record-breaking runs…and getting even more salty.
Until tomorrow – happy trails.
Tags
Related Posts
Share This